Cairnhill 16 Units Mix
Units
Type
Number
of Units
Total
No. of Units
Size Area
(Sqm)
2 Bedroom
B
12
13
72
B1
1
72
3 Bedroom
C
12
22
98
C1
1
98
CS
9
120
4 Bedroom
D
3
4
162
D1
1
162
Schematic Diagram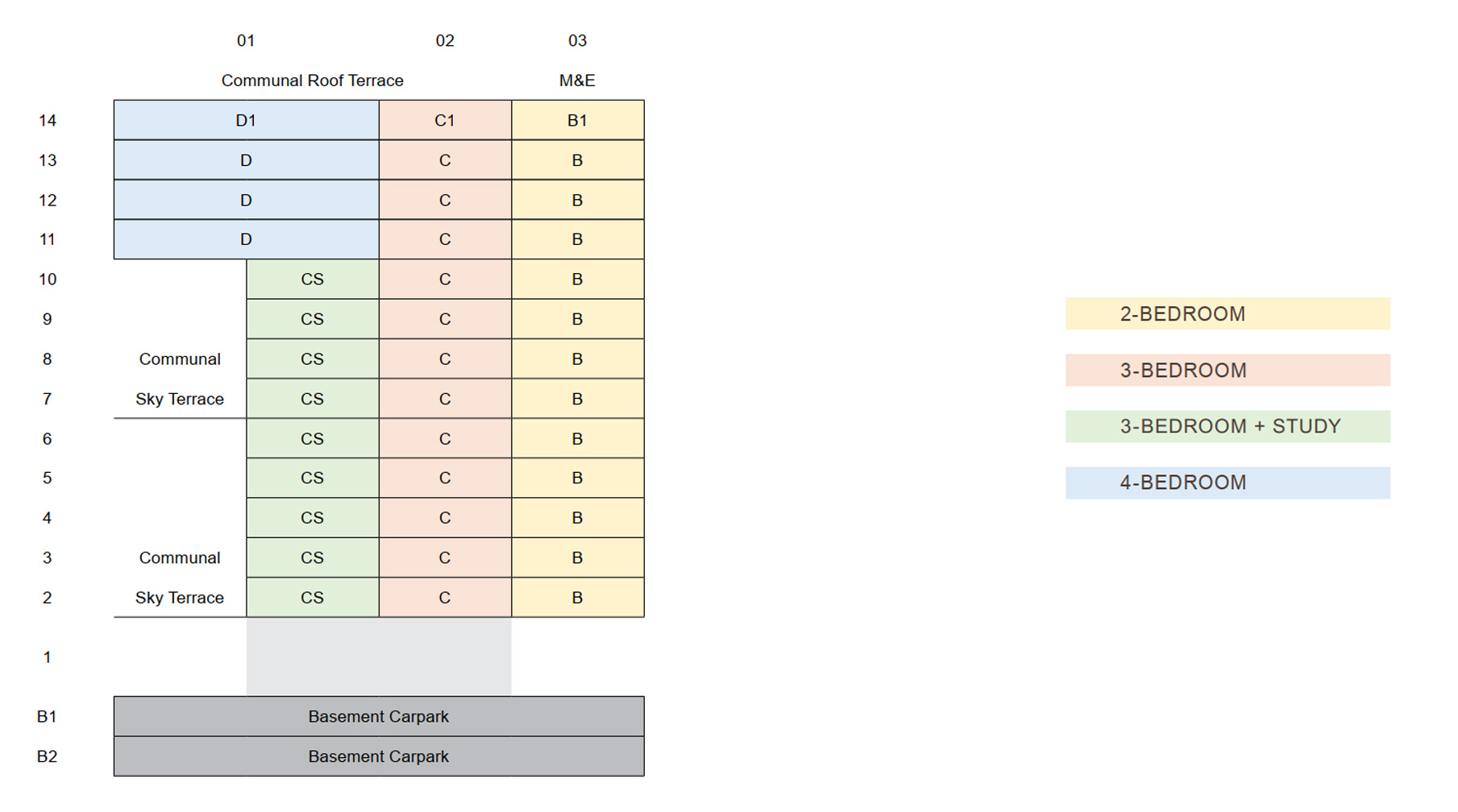 Cairnhill 16 Floor Plans
Apartment Units
The 39 well-crafted apartment units are distinguished by their functional and efficient space planning. Private lifts are provided for all units, and living and dining areas open out to the views beyond.
Well-designed bathrooms with designer fittings and elegant cabinetry works complement the luxurious stone finishes. The carefully selected materials and finishes achieve a timeless and elegant interior environment.
Throughout the apartment, thoughtfully designed spaces abound. The architects have paid meticulous attention to ensure every aspect of the development has been refined up to the smallest detail.
Units
Private lift access for all units.
Unit layout – meticulously designed with efficient use of space.
Wide frontage – Living Dining areas side by side with flexibility for reconfiguration.
Daylighting – full height curtain walls wrap around the corner of bedrooms to offer wide view angles.
High Ceiling – Ranging from 3.2 metres and 2.8 metres for all units. Additional height (4.2m and 2.8m) for 14th Storey units.
Luxurious fittings – imported kitchen, luxury branded kitchen appliances, rose gold luxury branded sanitary fittings, etc.
Nature-inspired balcony sun shading screens provided for Type CS and Type D units along West facing façade.