Cairnhill 16 Site Plan
LEVEL 1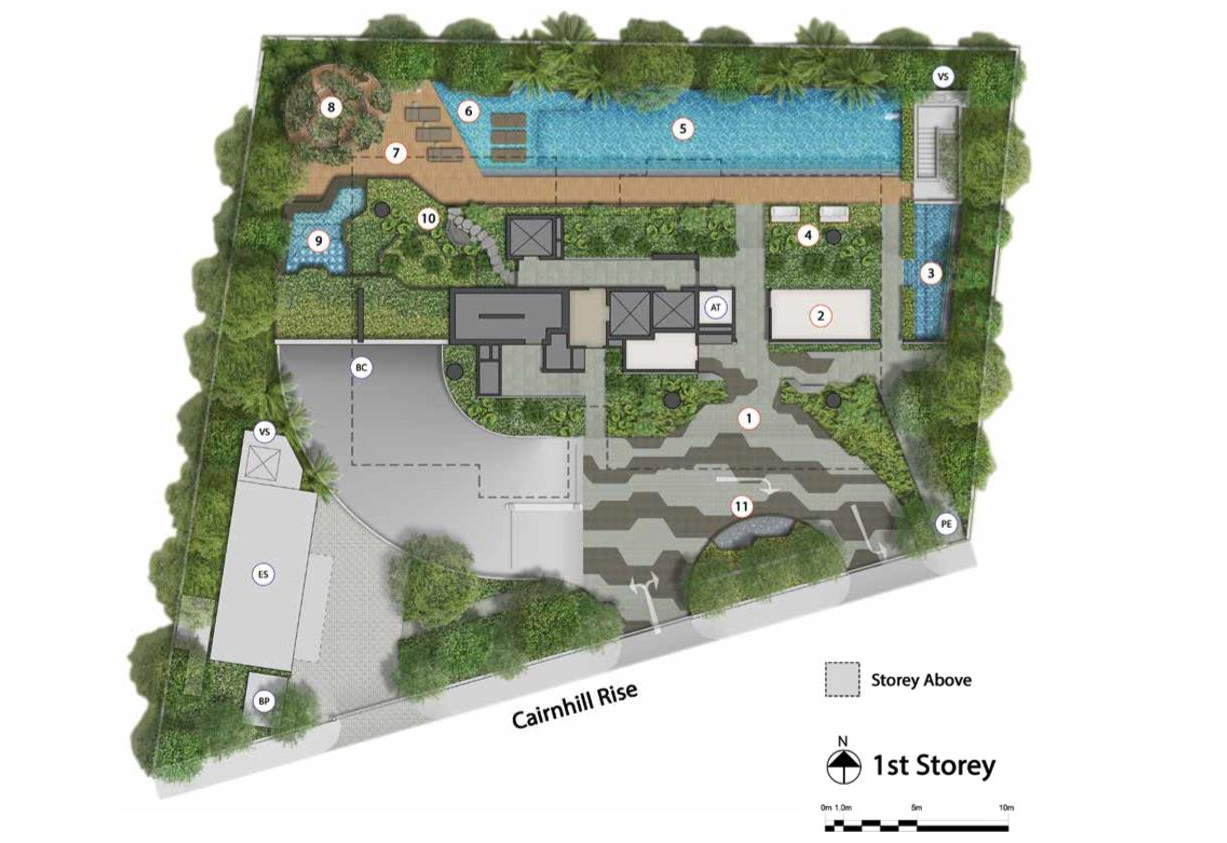 1st Storey:
1. Arrival Drop-Off
2. Gym
3. Jacuzzi Garden
4. Hanging Lounger
5. Lap Pool 20m
6. Aqua Deck
7. Pool Deck
8. Feature Pavilion
9. Kid's Pool
10. Stone Bench
11. Entrance Water Feature
PE - Pedestrian Entrance
AT - Accessible Toilet
BP - Bin Point
ES - Electrical Substation
BC - Basement Carpark Entrance
VS - Ventilation Shaft
---
---
ROOF TERRACE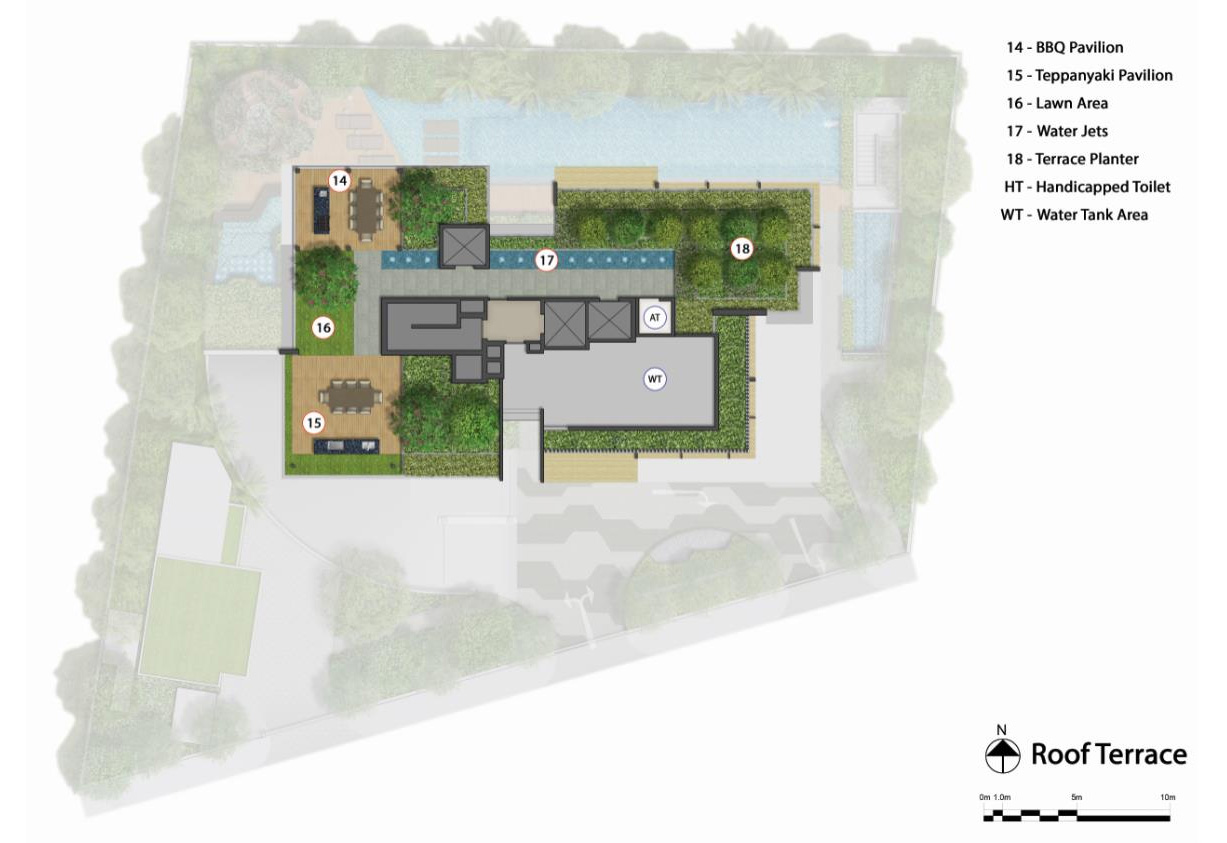 14. 660 Pavilion
15. Teppanyaki Pavillon
16. Lawn Area
17. Water Jets
18. Terrace Planter
HT - Handicapped Toilet
WT - Water Tank Area
---
Cairnhill 16 Design & Landscape Concept
Design Concept
Cairnhill 16, a luxurious high-end development at 16 Cairnhill Rise, is an exclusive 15 Storey freehold development nestled in the prime residential district of Cairnhill.
Inspired by nature, Cairnhill 16 is an oasis in the heart of the city, featuring 39 luxurious units set in an idyllic garden environment. The approach along Cairnhill Rise reveals a development with a contemporary yet unique façade that boldly distinguishes itself from its neighbours.
The sleek lines of the curtain wall are juxtaposed with the distinct and interesting play of timber inspired lattice and timber coloured aluminium screens in harmonious composition; the cool steel edging contrasting tastefully with the warm timber toned surfaces. The combination expressed in a geometric modernist form appeals to a discerning and sophisticated clientele.
Urban Sanctuary – Nature-inspired luxury living
Return to an urban garden, an exclusive luxury sanctuary surrounded by enchanting lush greenery. Melt away the hustle and bustle of an urban lifestyle within the city's exclusive shopping belt.
A beautiful verdant garden that serves as space for relaxation and moments of serenity, teeming with lovingly tended native trees and plants.
>40% landscape replacement area.
Eco-luxury
Ecologically and socially responsible – prestigious BCA Greenmark Gold Plus certification.
Green Initiatives – dedicated recycling chute.
Energy Efficient Fittings – LED lighting, energy-efficient air conditioning system and appliances.
Eco-friendly universal electric vehicle chargers for the residents to use.
Common Spaces/Facilities
The grand and lush entrance lobby at the first storey exudes elegance and sophistication, welcoming the residents and guiding them to the luxurious private lift lobby.
Despite having a small site area, the landscape design for Cairnhill 16 capitalizes on vertical greening with two sky terraces and a landscaped rooftop creating a landscape experience which is magnified and makes the ground space feel bigger then it is. A series of manicured geometric wave lines was introduced onto the ground plane, breaking up the linearity of the building architecture with parts of the ground scape disappearing into the woods.
These lines were inspired by landforms displaying geometrically repetitive movements and rhythmic folding patterns that slip and slide. They are used to guide the forming of all landscape components of the ground level, translating them into landscape amenities such as swimming pool, water features, the passageway, planters, seawalls, pavement patterns etc.
These amenities will cater to the diverse lifestyle aspirations of the users and provide a holistic living environment for the residents.
Ground floor
Entrance drop-off featuring 16 water candles as a strong focus and the memorable physical address for the development.
Lobby textured feature wall gives an illusion of movement, which uplifts and inspires arrival.
A 20m azure pool appears as it originates from the woods, gently vanishing over an infinity-edge beckoning resident for a rejuvenating afternoon respite.
An iconic 2-storey multi-purpose pavilion with a feature tree that overlooks the pools and landscape in the development.
A kid's pool with water bubblers.
A long linear 3-4 m tall green cage was proposed to create a cosy, private secluded corner for a Jacuzzi Pool with a trellis above it.
Indoor gym – overlooking the landscape and pool.
2nd Storey Fitness Terrace
To allow users to enjoy fitness activity in a natural setting, having a holistic approach to wellness.
7th Storey Reading Lounge
A landscaped area with casual outdoor furniture to allow users to indulge and contemplate in the surrounding greenery.
Roof Terrace
A Teppanyaki themed outdoor dining with refined cooking facilities such as electrical operating hot plate, granite countertop with sink and adequate seating.
A BBQ charcoal grill themed outdoor dining experience with facilities such as grill pit, granite countertop with sink and adequate seating.
Linear water feature with bubblers and planters at the background that gives an upscale touch to the development as a point of interest.
---
Facilities
A LEGACY FOR THE PRIVILEGED FEW
For those who seek the rare, the exclusive, and the exceptional
THE PRIVILEGE OF FREEHOLD OWNERSHIP
Take pride in ownership of Cairnhill 16, knowing that its freehold status is a rarity in land-scarce Singapore. The exclusivity of only 39 residences in a single iconic tower only heighten its allure, provides privacy and serenity. And as a distinctive urban oasis of nature, the vision of Cairnhill 16 is to create a new residential an experience unlike any other, an Eden of tropical beauty in the heart of Orchard Road.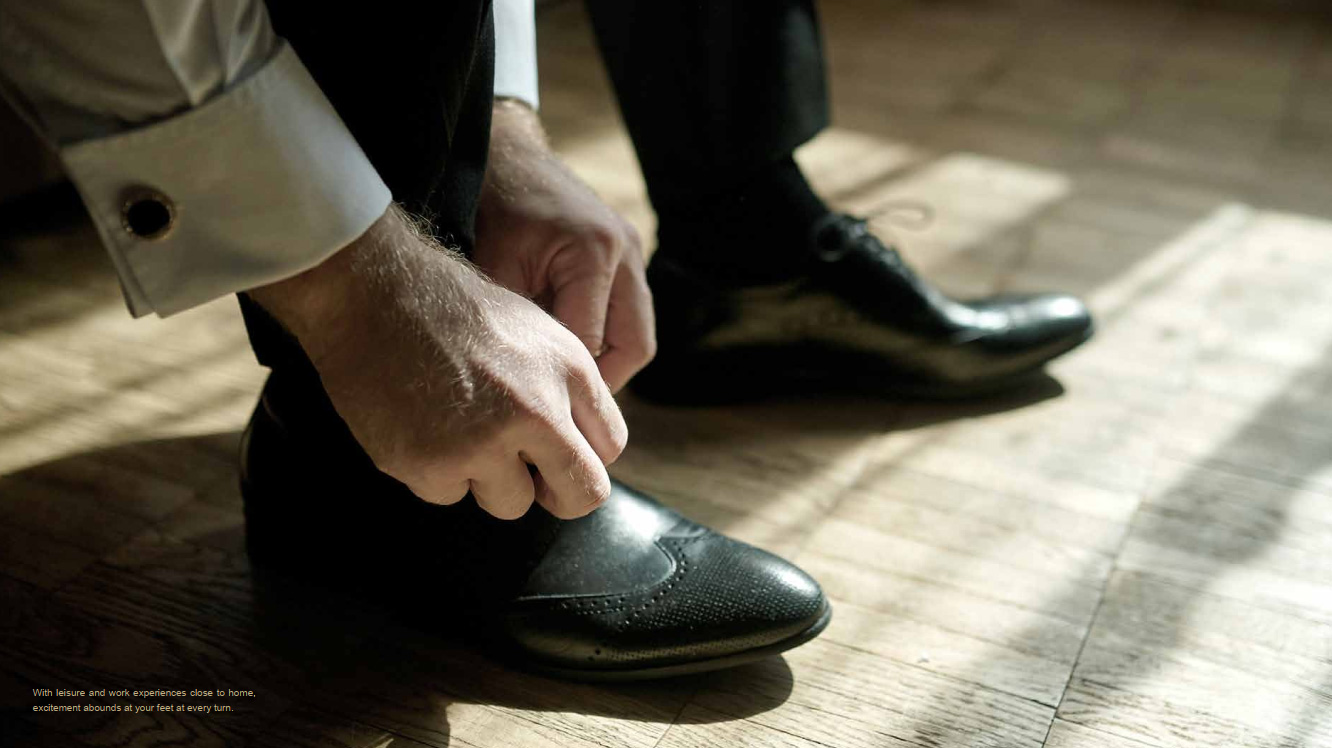 PRIVILEGE IS HAVING THE WORLD AT YOUR FEET
With leisure and work experiences close to home, excitement abounds at your feet at every turn.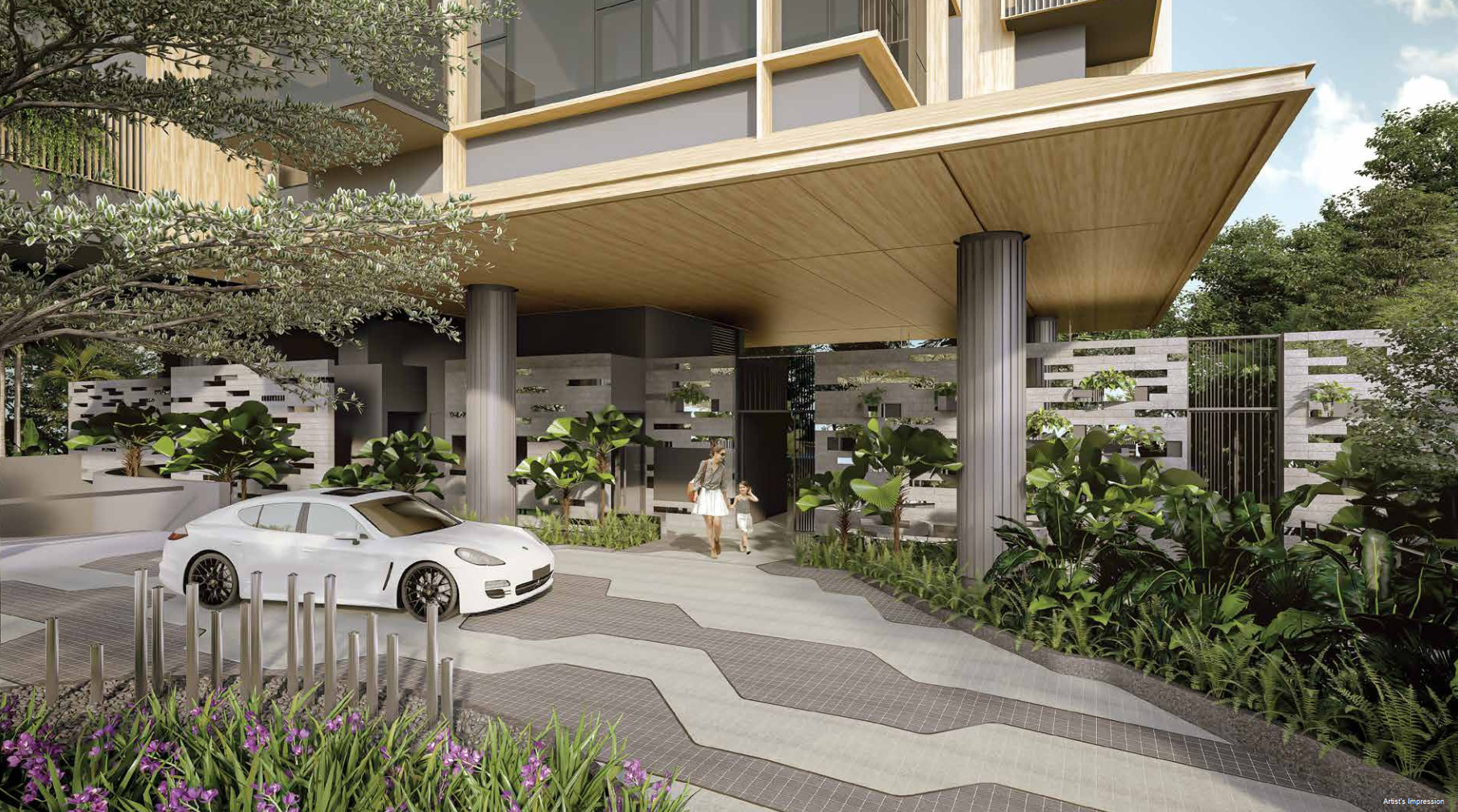 PRIVILEGE isTHE EXCLUSIVITY OF ONLY 39 RESIDENCES
Sleek and sculptural, Cairnhill 16 rises above the city like an exquisite contemporary masterpiece. The clean lines & cool hues of the curtain wall facade contrasts tastefully with the warm timber toned surfaces, forming a geometric modernist architectural design for the most sophisticated of tastes.
LUXURIATE IN SOPHISTICATION
Escape to your private world where leafy canopies create a haven of luxury amidst the sublime natural landscape. Framed by the tropical outdoor deck and lush flora, the 20-metre linear lap pool echoes the sophistication of designer resorts. And surrounded by the lushness, the rejuvenating bliss of the jacuzzi pool awaits your discovery.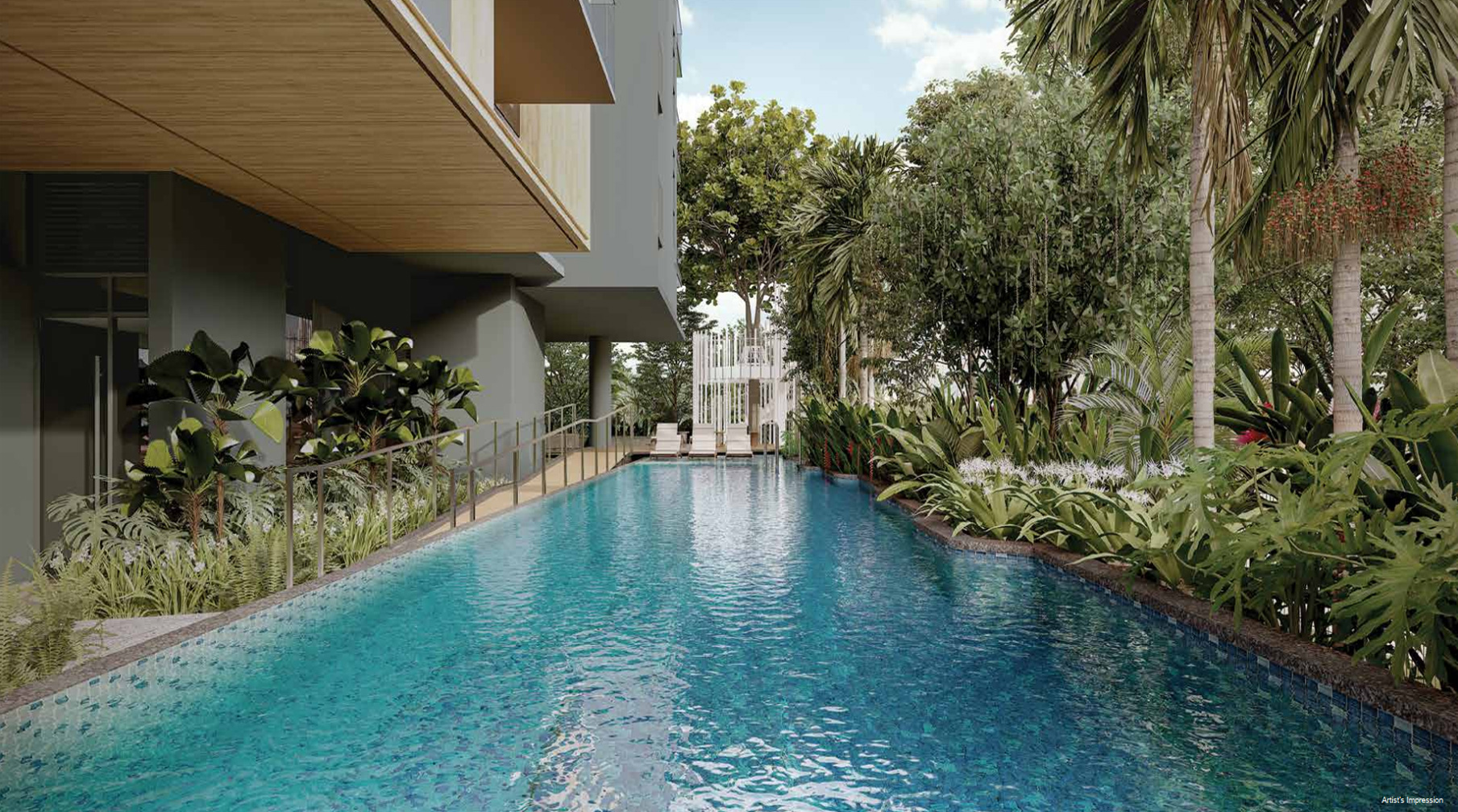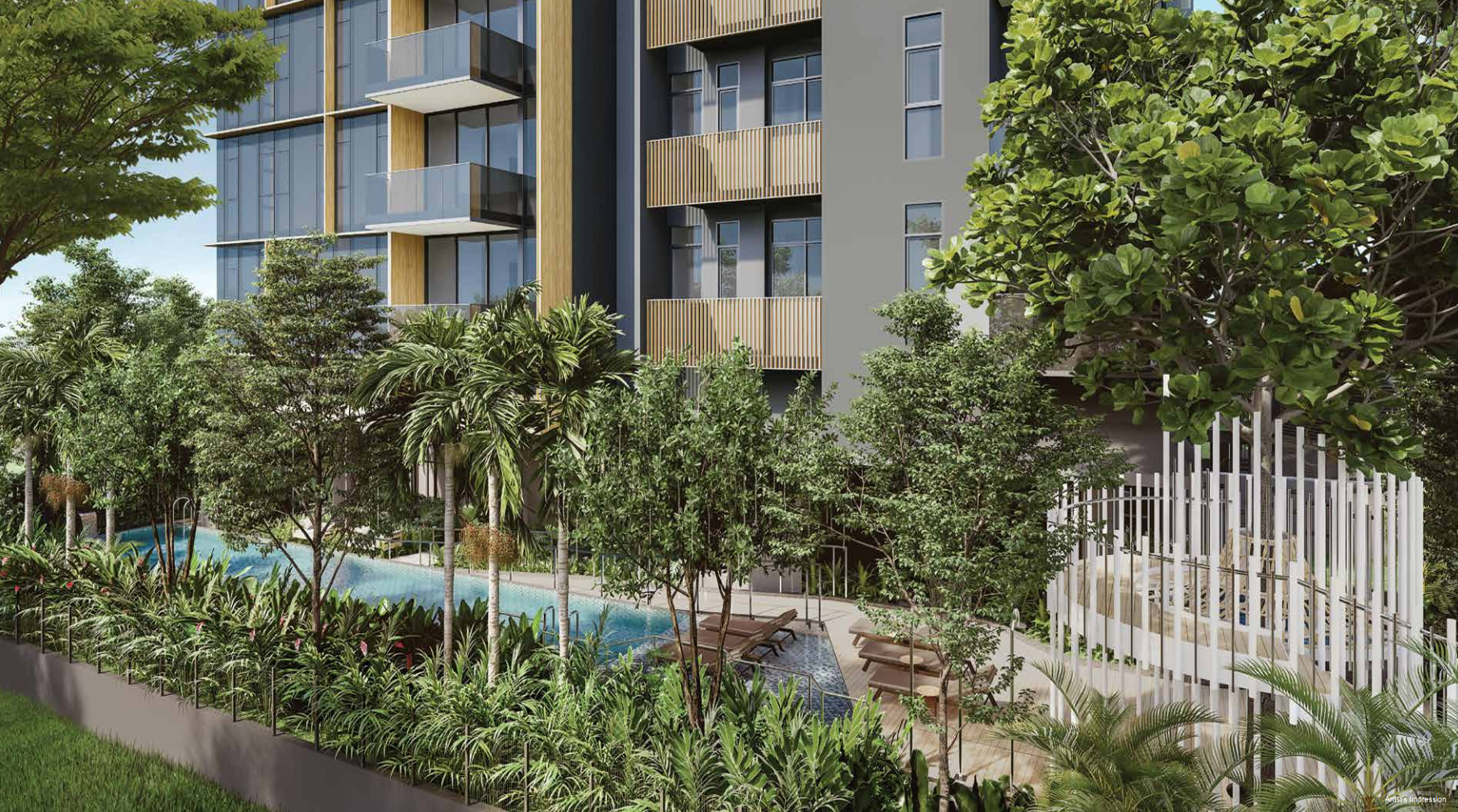 WHERE NATURE AND ART PLAY
Revel in the splendour of nature. Just next to the kid's pool, an artistic sculptural pavilion wraps around an impressive feature tree that rises above the green surrounds. The children, and young at heart, will delight in the suspended rope play area where they can come closer to appreciate the beauty of nature.
High above the city with sweeping panoramic views, a special occasion or a private party on the roof terrace can transform into an evening to remember. Nestled into the crown of Cairnhill 16 are two dining pavilions set in a garden tapestry of tranquil greenery and water features. The dining pavilions are perfect for hosting an impressive event under the stars, with the city as your breathtaking backdrop, and an event you are proud of.
PRIVILEGE is THE HEIGHT OF FINE LIVING
Every residence is luxuriously designed for maximum space. Living and dining areas are set side-by-side and interchangeable to custom-fit your personal preferences. All residences are thoughtfully expressed with high ceilings to frame spectacular views, with select ones offering soaring ceiling heights of up to 4.2m and movable balcony screenings.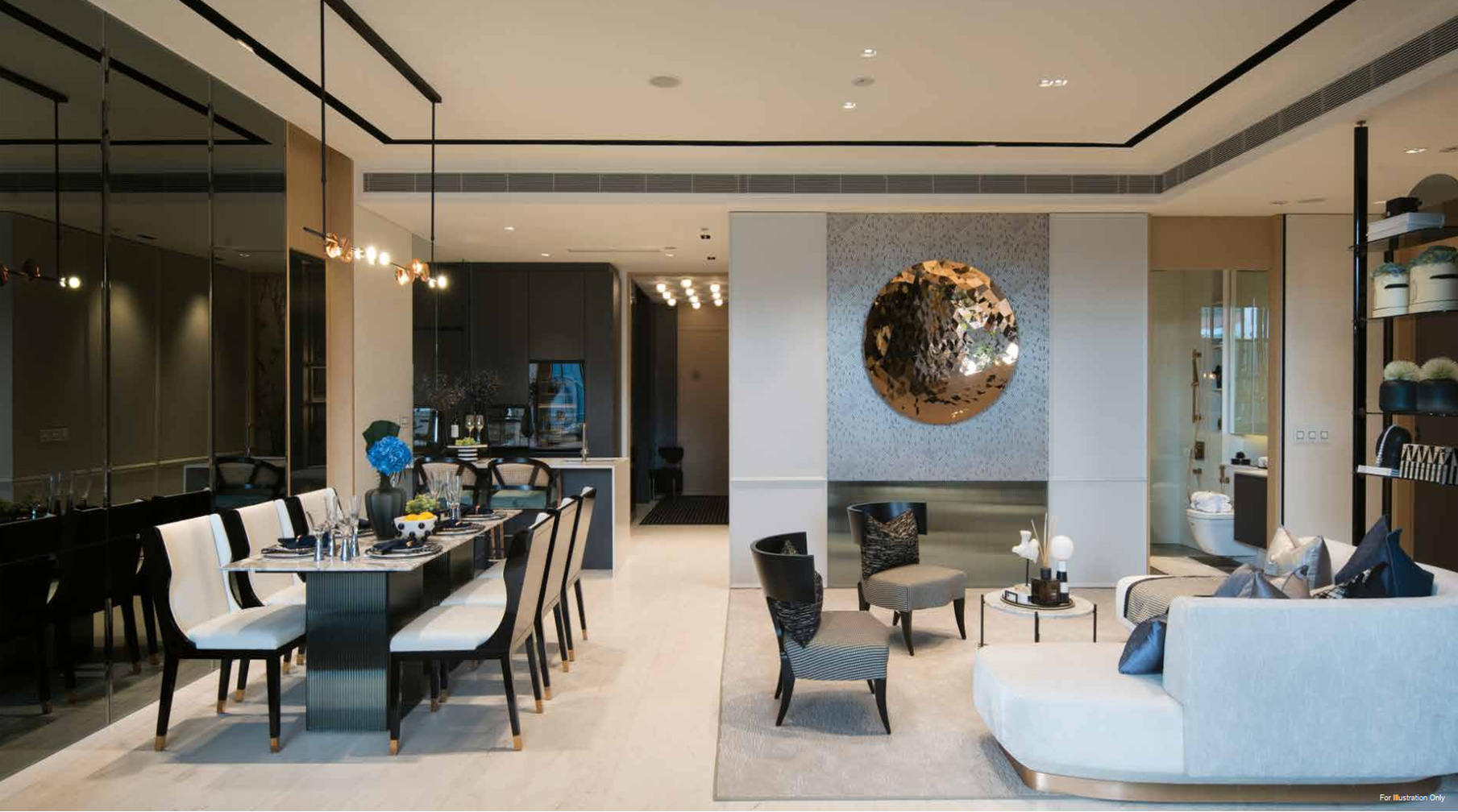 Surround yourself with the refinement of extravagance. A curtain wall wraps around all master bedrooms for column-free wide-angled views of the city and beyond. Bathrooms in every residence are adorned with rose-gold sanitary fittings. The lavish 4 bedroom residences also come with a steam room and smart water closet in the master bathroom and ensuite bathrooms for all bedrooms.
Bespoke interiors are accessorised with only the finest designer appliances, fittings and fixtures
PRIVILEGE IS SMART LIVING AT YOUR FINGERTIPS
For greater peace of mind and ultimate convenience, security and select home features of your residence can be remotely controlled anytime, anywhere via a dedicated app from your phone.