Singapore Offices 1H/2021
.
Singapore office - Yield compression is the next investment theme
OVERVIEW
The pandemic has thus far affected demand for most commercial properties, leading to lower rents. Our forecast for Grade A CBD offices is for rents to decline about 5% YoY in 2021 and thereafter remain flat through 2022 before rising in 2023. From 2023 onwards, we have assumed a 2.5% annual increase in rents and this is consistent with what our valuers have been adopting in their discounted cash flow models.
While rents have fallen, it is the passing rent that influences investment decisions. Assuming a weighted average lease expiry of four years, we have plotted the passing rents for a Grade A office building in the CBD. This is shown in Graph 1.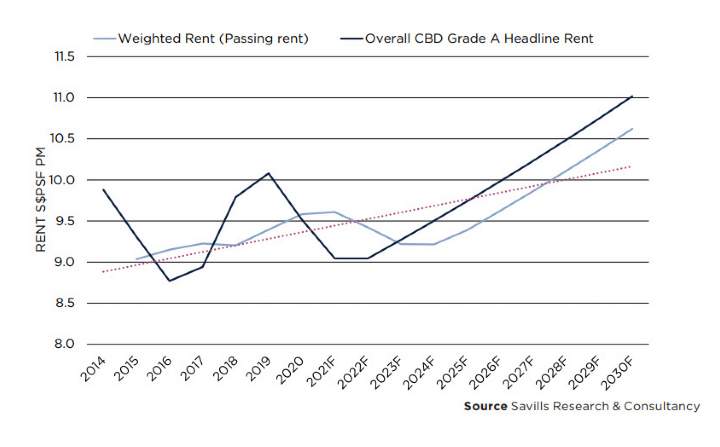 Using the passing rents assumed, we calculated the Net Present Value (NPV) of a hypothetical Grade A CBD office building under two scenarios. One is if there was no outbreak of COVID. Two is with COVID. The analysis goes like this.