177 River Valley Road, Singapore
CanningHill Piers
CanningHill Piers Site Plan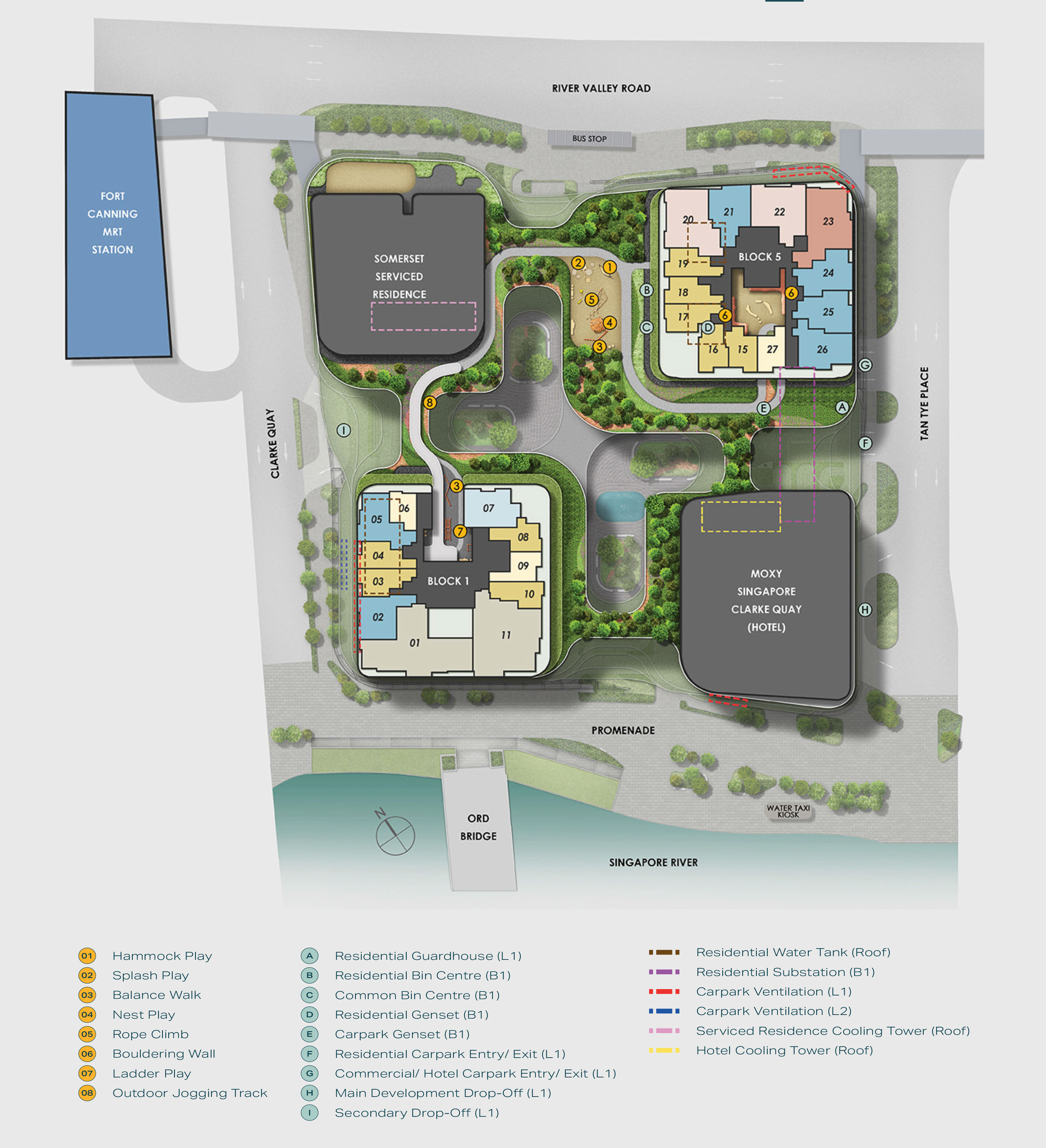 LEVEL 3 - CANNING HILL GARDEN
1. Hammock Play
2. Splash Play
3. Balance Walk - Balance Beam
4. Nest Play
5. Rope Climb
6. Bouldering Wall
7. Ladder Plat
8. Outdoor Jogging Track
A. Residential Guardhouse (L1)
B. Residential Bin Centre (B1)
C. Common Bin Centre (B1)
D. Residential Genset (B1)
E. Carpark Genset (B1)
F. Residential Carpark Entrey / Exit (L1)
G. Commercial / Hotel Carpark Entry (L1)
H. Main Development Drop-off (L1)
I. Secondary Drop-off (L1)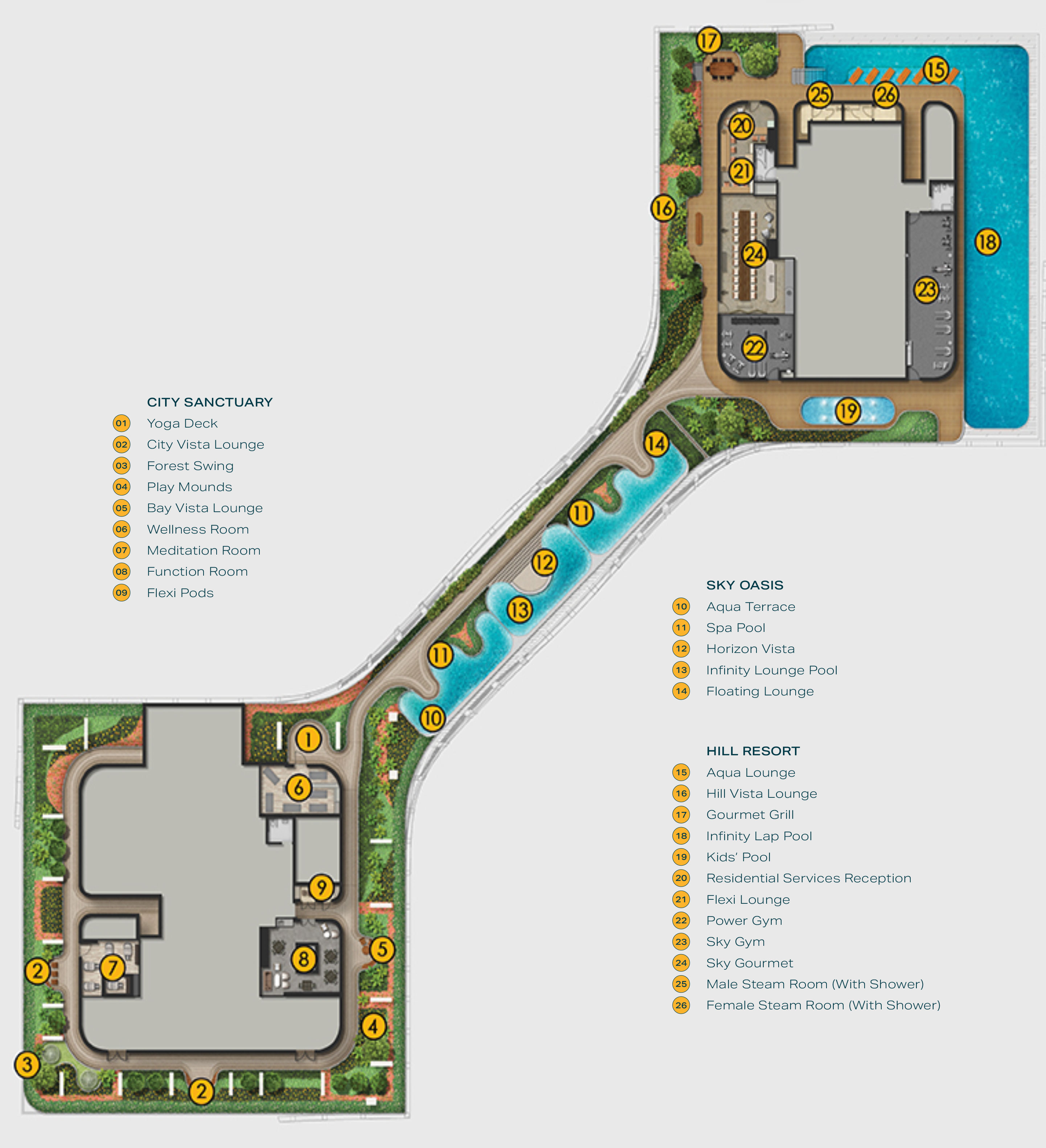 LEVEL 24 - CANNINGHILL CLUB
City Santuary
1. Yoga Deck
2. City Vista Lounge
3. Forest Swing
4. Play Mounds
5. Bay Vista Lounge
6. Wellness Room
7. Meditation Room
8. Frunction Room
9. Flexi Pods
Sky Oasis
10. Aqua Terrace
11. Spa Pool
12. Horizon Vista
13. Infinity Lounge Pool
14. Floating Lounge
Hill Resort
15. Aqua Lounge
16. Hill Vista Lounge
17. Gourmet Frill
18. Infinity Lap Pool
19. Kids' Pool
20. Residential Services Reception
21. Flexi Lounge
22. Power Gym
23. Sky Gym
24. Sky Gourmet
25. Male Steam Room (With Shower)
26. Female Steam Room (With Shower)
CanningHill Piers Facilities
A NEW VISION OF INTEGRATED LIVING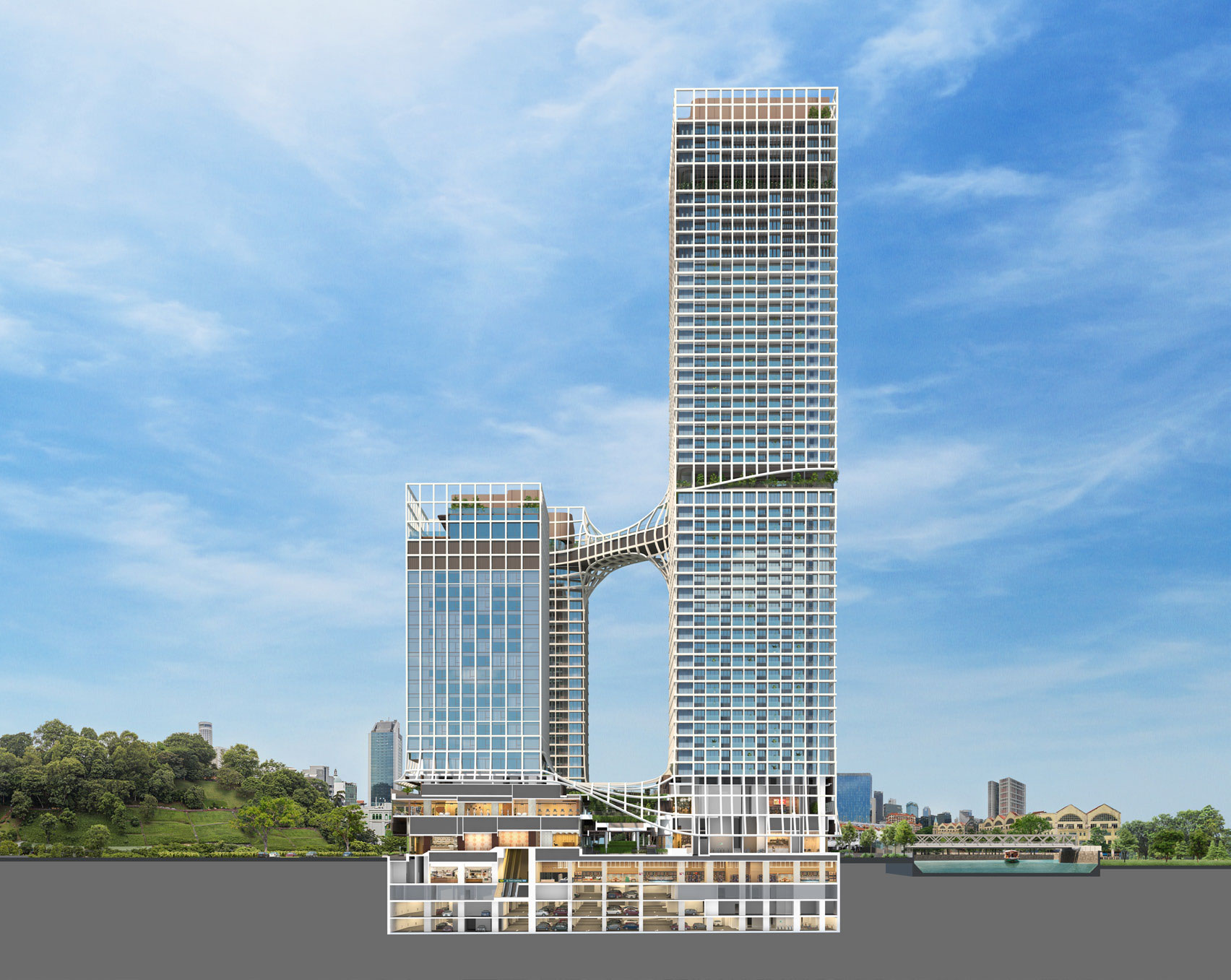 Situated in the heart of Clarke Quay – Singapore's most popular riverfront entertainment hotspot
A stone's throw to Singapore's CBD
Designed by internationally acclaimed Danish architecture firm - Bjarke Ingels Group (BIG)
AN INTEGRATED DEVELOPMENT
---
FOR OTHERS, A GLIMPSE
FOR YOU, A WORLD SET WIDE
Take in the views as you take a dip in the Infinity Lap Pool on Level 24
Artistically draped in an iconic geometric lattice, the towers of CanningHill Piers are unmissable amidst the low-rise shophouses of Clarke Quay. Like the lifting of a veil, the lattice is raised at the upper recreational levels, elevating your rest and relaxation with a dazzling backdrop of the city skyline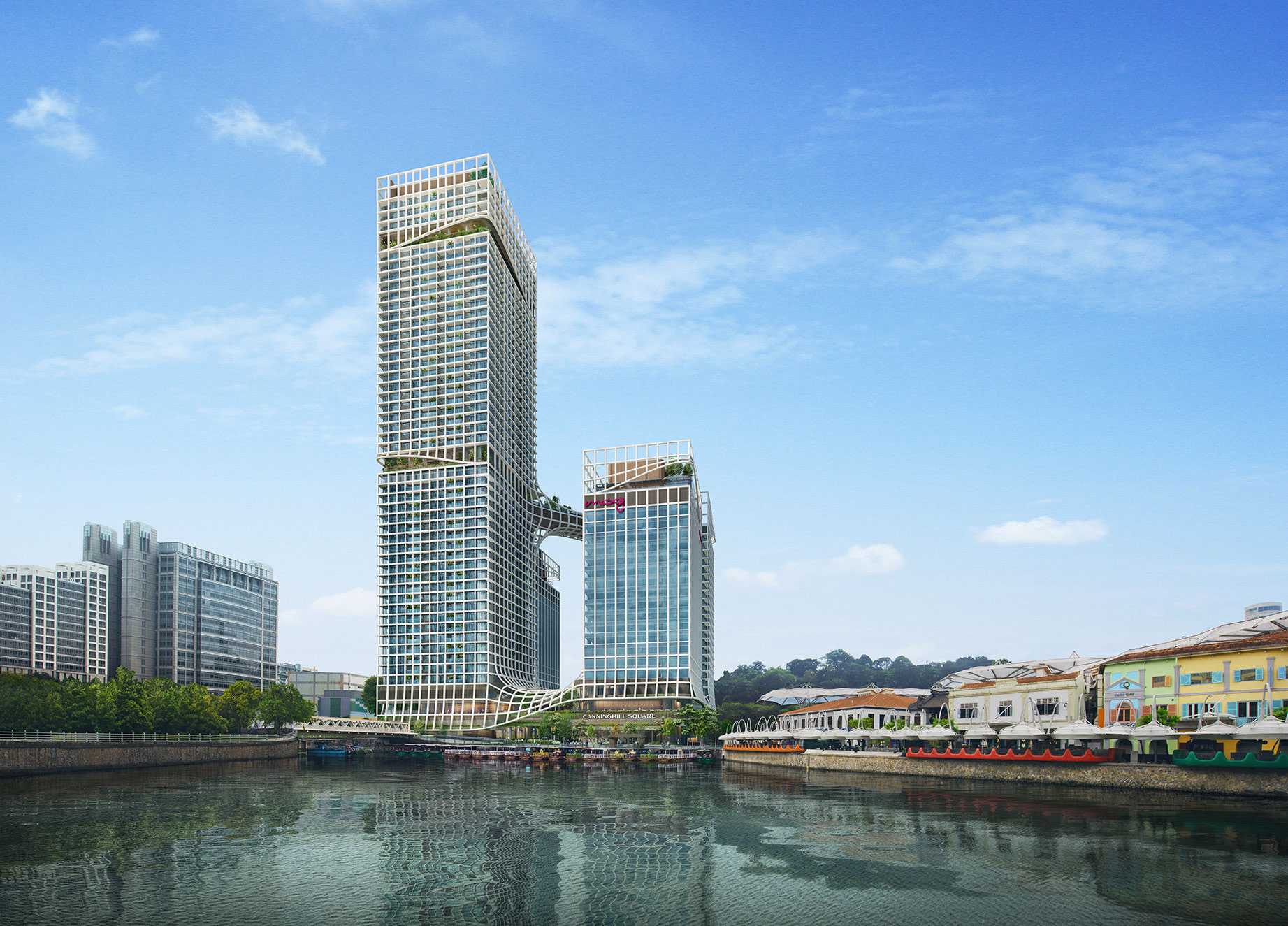 THE MOST SCENIC BRIDGE BY THE RIVER MAY JUST BE THE ONE UP IN THE SKY
In a nod to Singapore River and its historical bridges, a spectacular sky bridge takes centre stage here. This veritable slice of heaven spans the two residential towers on Level 24. With a myriad of wellness and relaxation facilities like its multiple pools, yoga deck, meditation room and more, soak in the views as you soak in the sublimity of mid-air tranquillity. Those looking for a more vigorous workout will be pleased to find two gyms, one decked out for cardio exercises and the other for resistance training.
---
L45 CANNINGHILL SKY - Welcome To Your Private Club In The Sky
Entertain in style in an unforgettable setting high above the city. From intimate tête-à-têtes to soirées for dozens of guests, the myriad spaces here accommodate all with panache. Conceived as your private club in the sky, the clubhouse gives you the pick of two well-appointed lounges. With a kitchenette as well as an island counter that can be easily transformed into a bar, feel free to bring in your favourite mixologist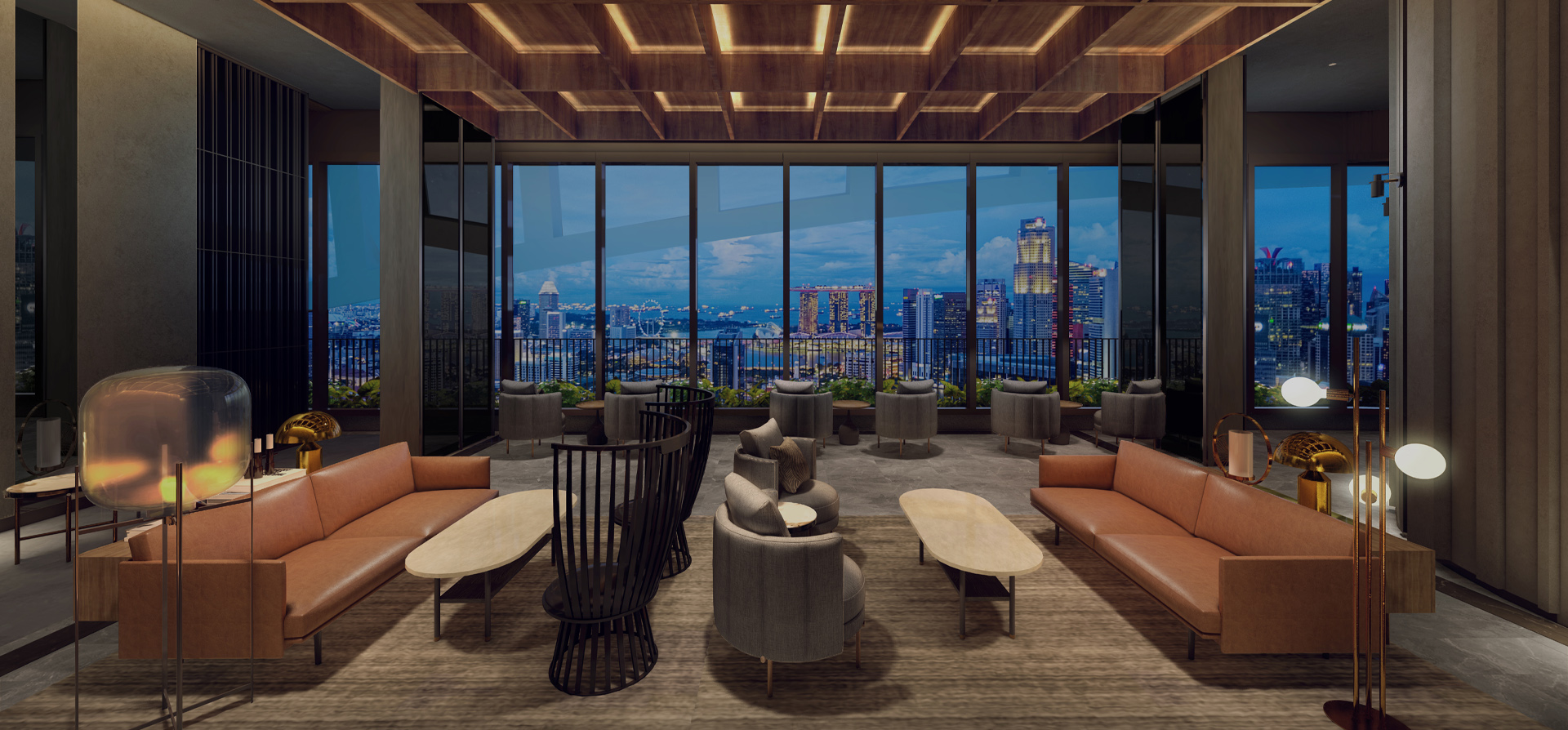 L24 CANNINGHILL CLUB - SOAK IN THE VIEWS AND THAT TOP OF THE WORLD FEELING
The tranquillity you seek is surprisingly easy to fnd at this stunning sky bridge. Spanning two towers and flled with wellness and relaxation facilities from end to end, each of its three zones has a distinct theme and distinctive views too. Start your day with brisk laps in the Infnity Lap Pool, and wind down at the Infnity Lounge Pool come sunset, marvelling at the changing colours of the skies. The Spa Pool and Floating Lounge offer even more therapeutic respite. At the Yoga Deck or the Sky Gym and Power Gym, set your eyes on the horizon and push on to a new record.
Find yourself lingering at the Infinity Lounge Pool
Gather your friends and family for a good time over good food. The Sky Gourmet dining room is fully equipped with an induction hob, oven, fridge and wine chiller, and ready for your culinary explorations. Or light up the fre over at the Gourmet Grill for a barbeque cookout complete with city views.
BASK IN THE SPACIOUSNESS OF A RARE CITY HOME
If you need a quiet spot to think or to pen down your thoughts, there's always the Flexi Lounge or the Flexi Pods, both equipped with WiFi and charging points. Housing a co-working space, the Flexi Lounge is also where the Residential Services Reception is located so assistance is readily on hand. On occasions when you need some private time, simply check in to the Flexi Pods designed for privacy and comfort.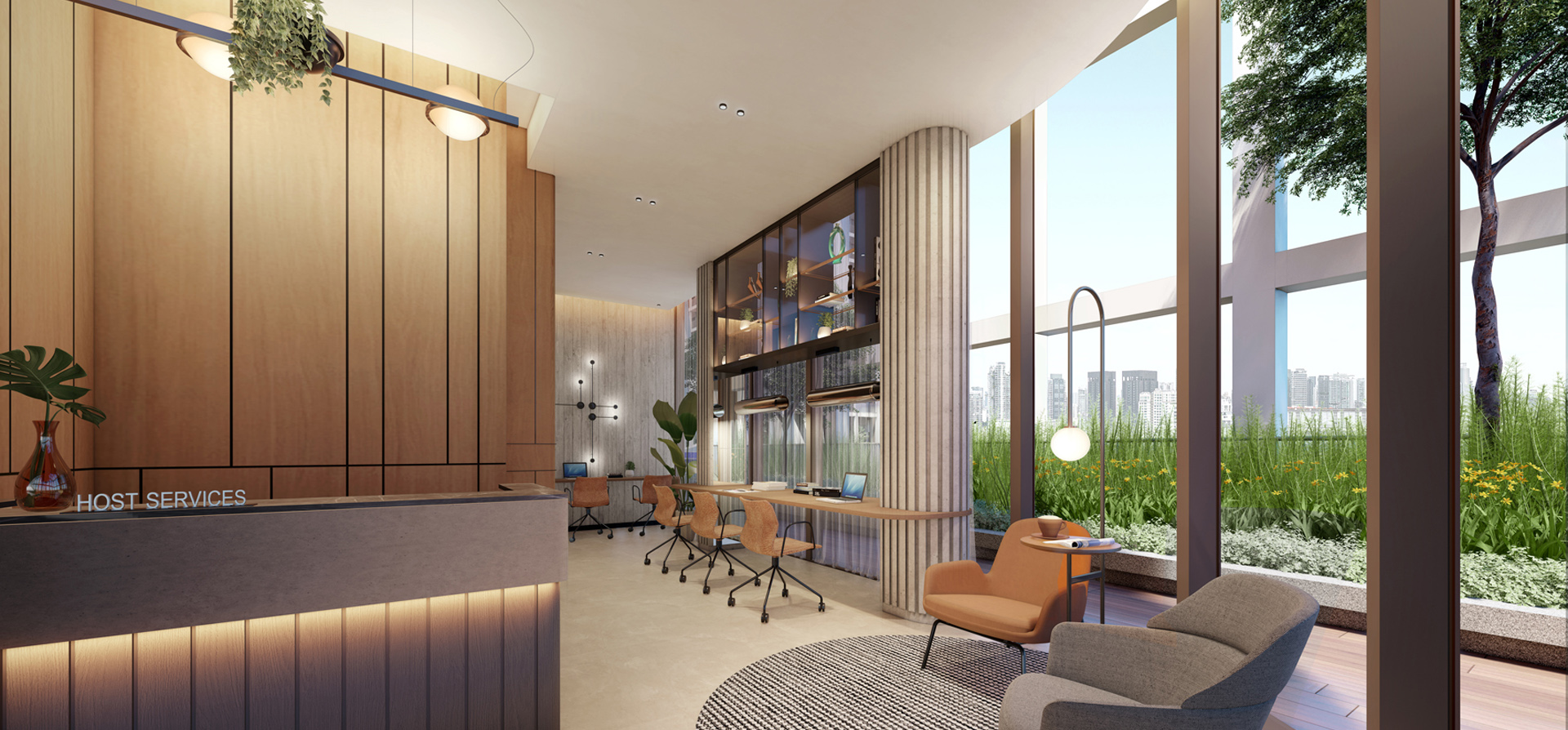 An airy co-working space to spark fresh ideas
---
L3 CANNINGHILL GARDEN - ALL-WEATHER FUN FOR ALL IN THE FAMILY
With its rugged landscaping and open-air ftness facilities, catch some Vitamin D as you catch your breath in between exercises here. Test your limits at the Bouldering Wall or the Rope Climb, beat the clock at the Outdoor Jogging Track. Get the kids in on the action too and swap their e-games for some healthy fun, for which child could resist some Splash Play?
---
MORNING LARK OR NIGHT OWL, THERE'S ROOM FOR YOU AND A VIEW TO MATCH
Wake up to a cityscape gloriously painted by the morning sun. Or stay up with the mesmerising twinkling lights of the river as company. With the two residential towers offering a variety of views and apartment types, your perfect home is waiting for you at CanningHill Piers.
Choose from 1-bedroom to 5-bedroom premium units, expansive sky suites and a super penthouse that is the epitome of exclusivity. Designed for millennial modern living, every apartment is a study in understated elegance, where the smallest details help create a space that is unmistakably luxe and generously welcoming all at once.
Be the consummate host with the Italian-designed and made Ernestomeda kitchen system that rises to every occasion. Designer brand Miele provides the hood, hob and oven, while the integrated fridge and washer-dryer are from De Dietrich. The 1-bedroom, 1-bedroom+study and 3-bedroom premium units also feature a hidden surprise: a versatile pull-out counter that can serve as an extended food preparation area, dining table, or work-from-home station should the need arise.
WHERE REST COMES EASY
Take it easy with a home that always has your needs in mind. On top of thoughtful layouts that amplify the sense of space, clever design touches give you even more room to play with. In the master bedroom wardrobe, a special compartment holds and organises your accessories so you can compose your outfit of the day with flair.
In that most private of sanctums, sophisticated wares and fittings from premium brands Gessi and Laufen elevate the bathroom from the merely functional to an elegant oasis of rest. Revel in details like the sleek wall-mounted taps and exquisite engineered stone vanities with integrated sink, while ample storage makes room for your luxury toiletries and more. Complete with a deluxe rain shower in the master bath, bath time is set to be your favourite time of the day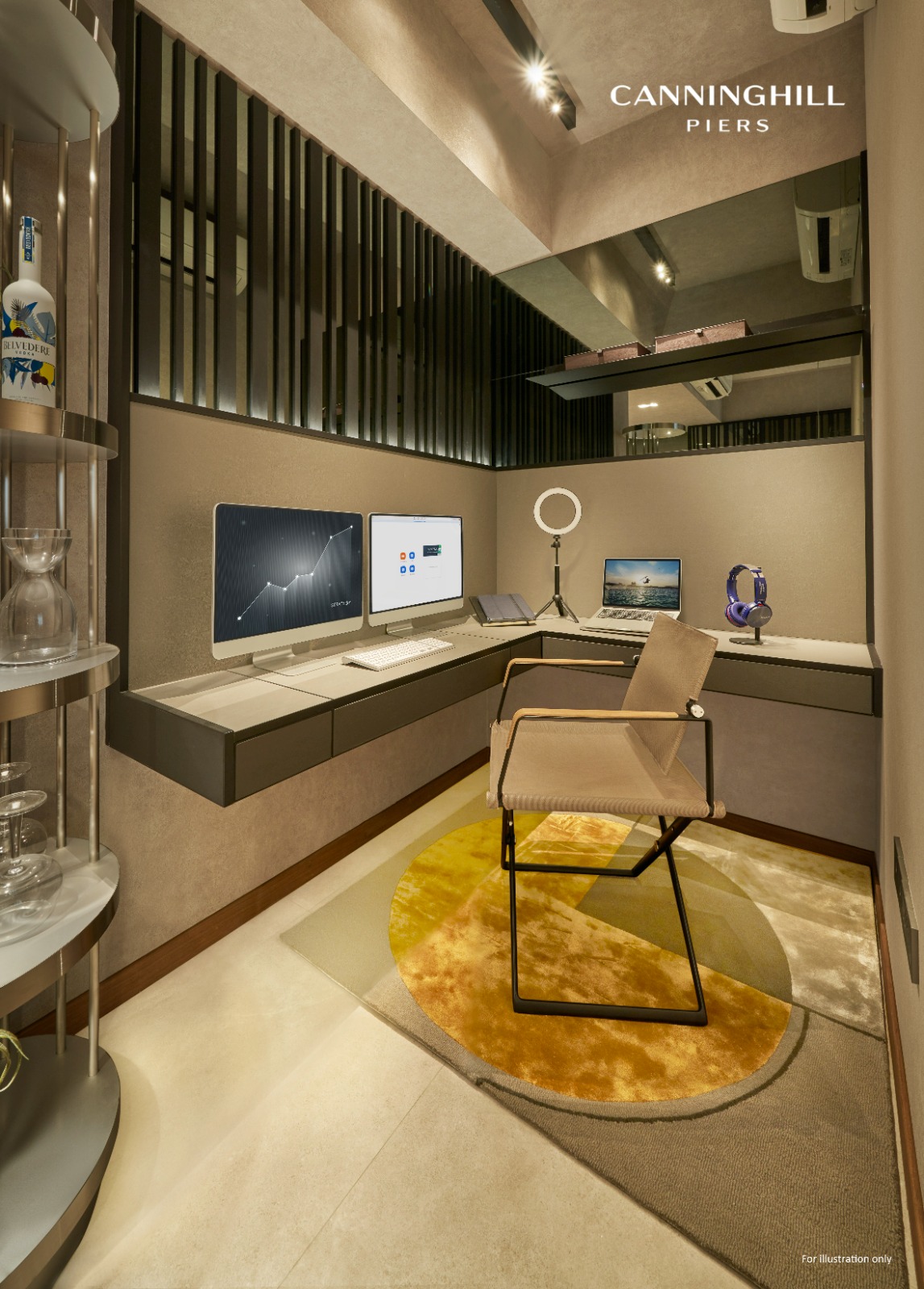 Work from home, elevated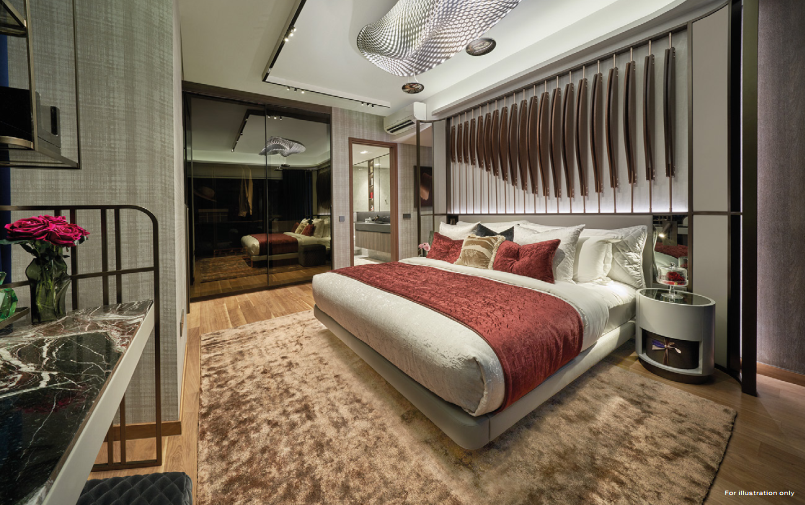 Thoughtful layouts make room for all that you love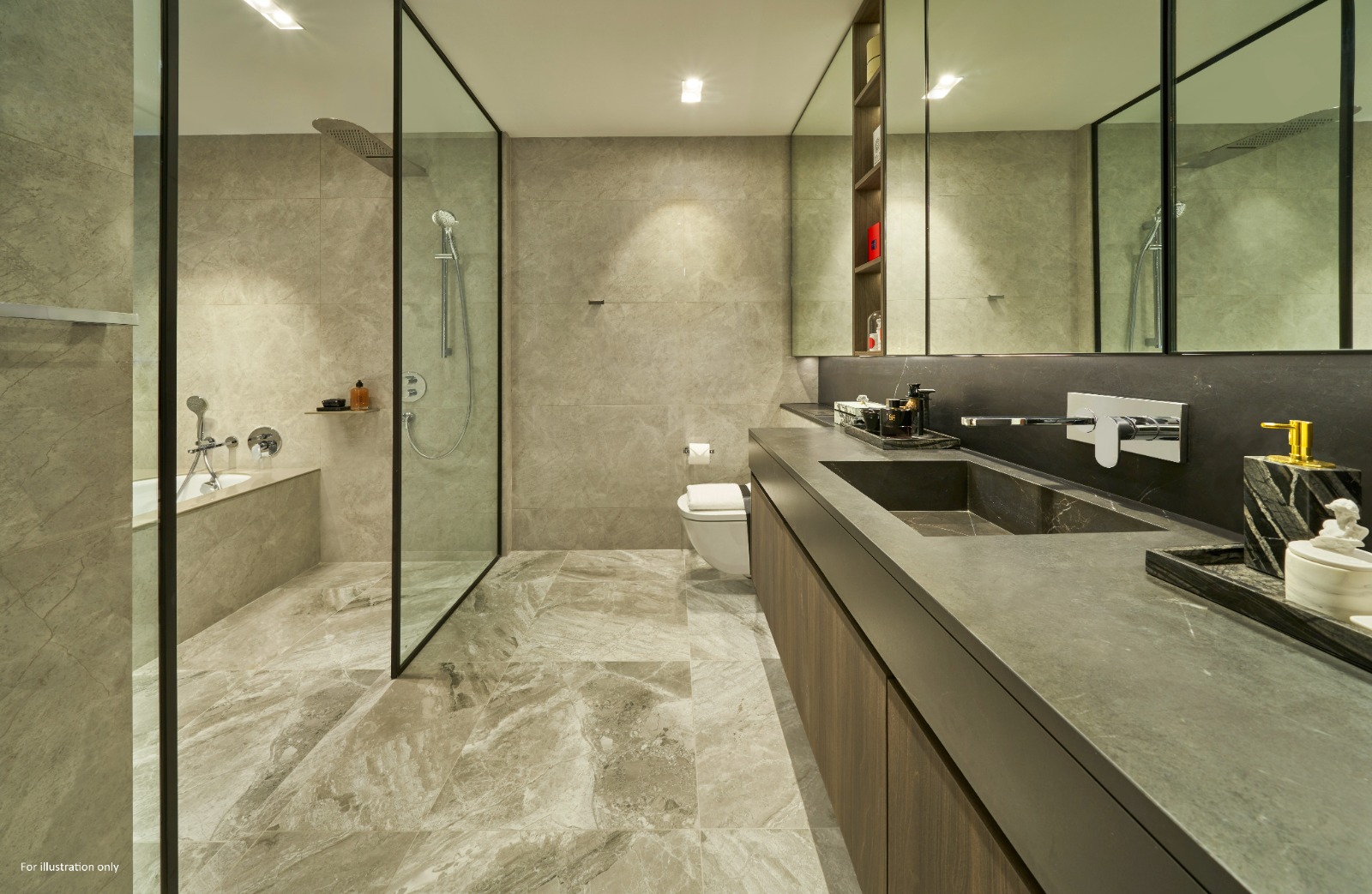 Designer wares and fittings create an elegant oasis of rest
---
EVERY NEED ANTICIPATED, EVERYBROW SMOOTHED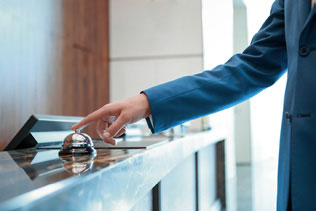 Premier Residential Services
Completing your life of ease, our team of Residential Hosts are on hand to provide seamless assistance. From your day-to-day needs such as arranging for laundry and housekeeping, and transport bookings; to special occasions like catering for parties, restaurant reservations, and more* — it's all taken care of.
*Selected services are chargeable. Terms and conditions apply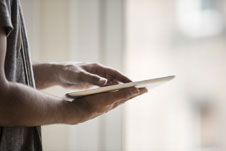 Your Future-Ready Home
Outftted with the Smart HomeHub, your home is poised for the integration of new technologies that make life easier, along with greater peace of mind. Pre-installed with the Smart Home app, the provided Smart Tablet Console puts all your smart home devices at your fngertips. The app can be installed on your mobile device too.
SMART HOME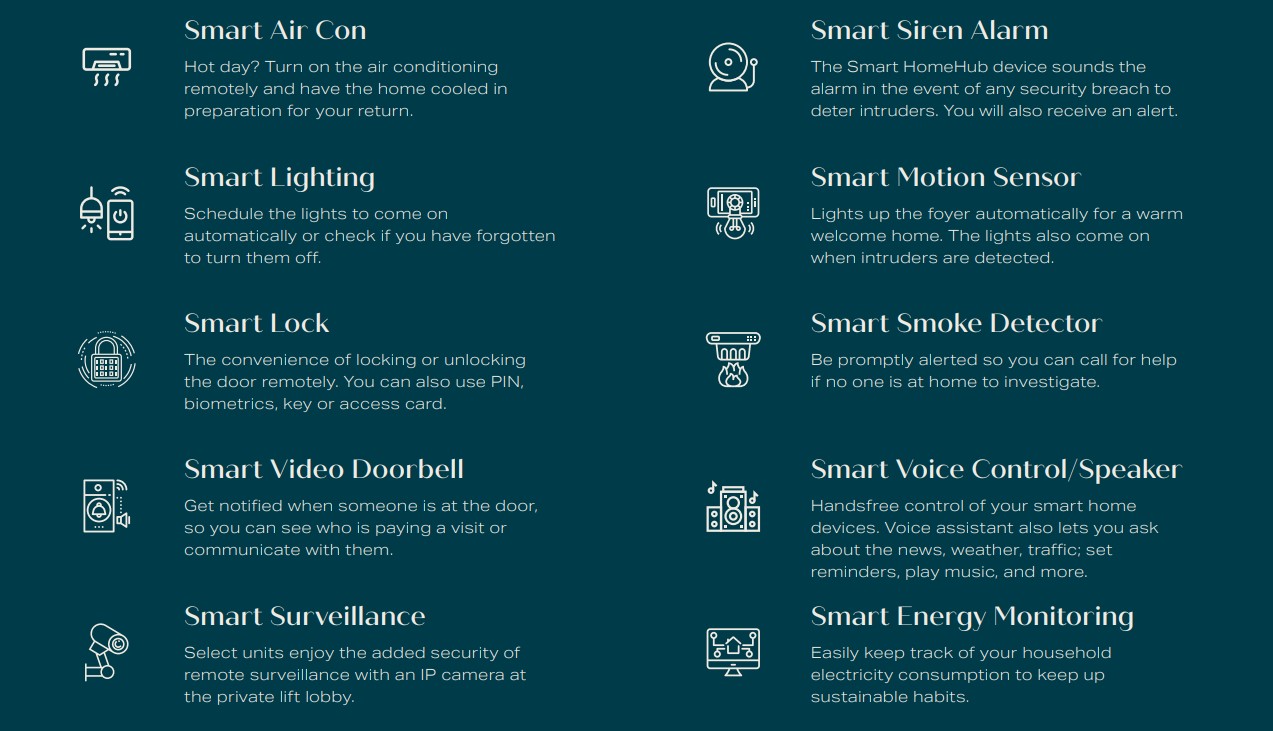 SMART COMMUNITY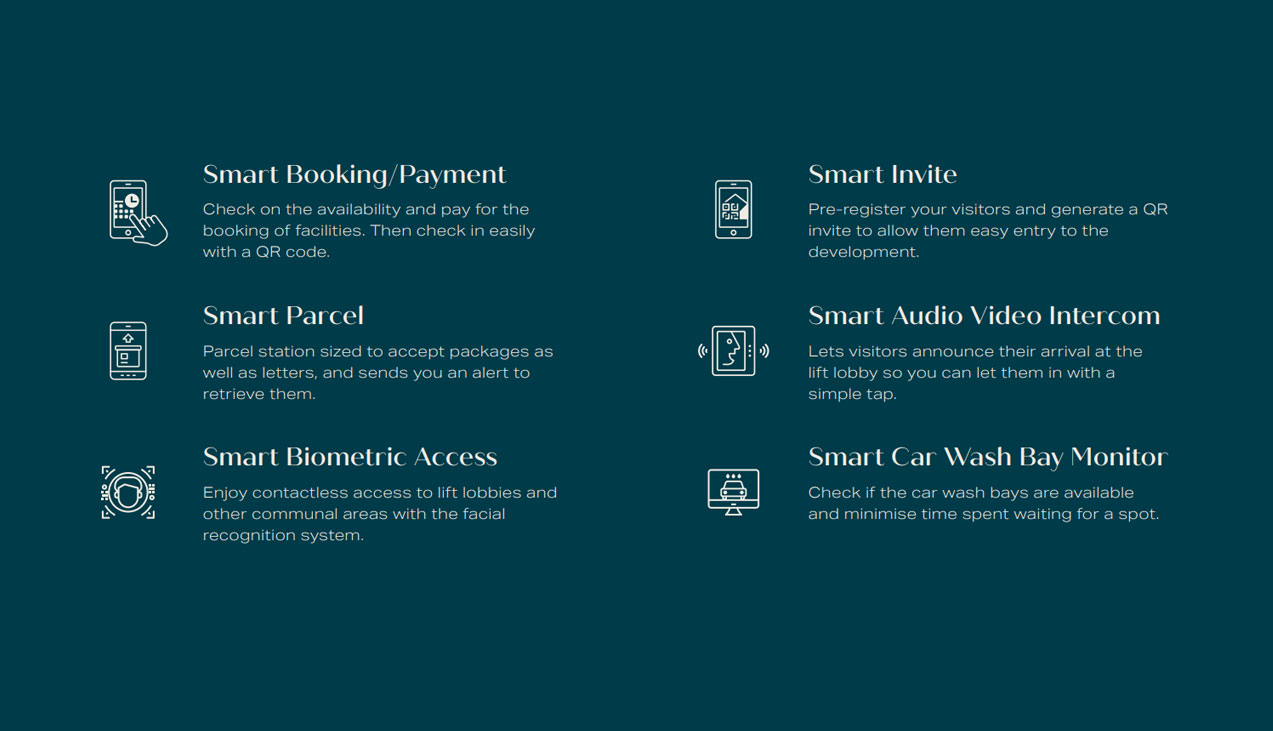 ---
GREEN IS THE WAY FORWARD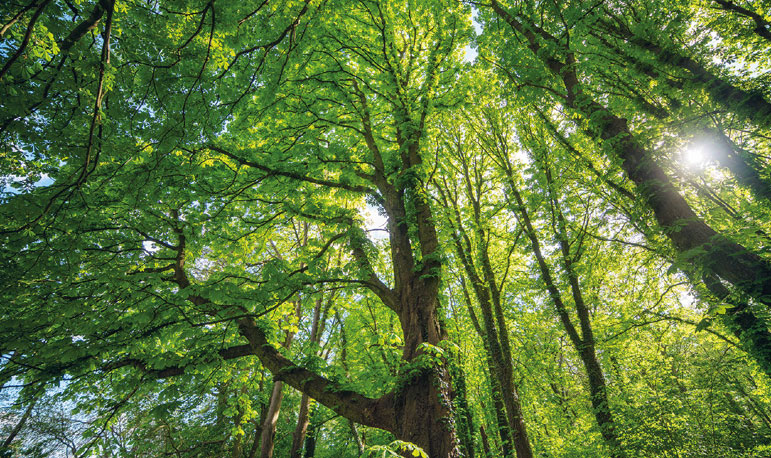 Awarded the BCA Green Mark GoldPlus, take pleasure in a home that not only affords you all the modern comforts, but does so with your interest and that of the earth at heart.